Christianity: practical and provable
"Anyone who has faith in me will do what I have been
doing. He will do even greater things than these."
- Christ Jesus
Our church is for you: seeker, long-time member, new Christian,
thinker. Our services are simple with singing, prayer, Bible passages
and stories, along with commentary from a Bible companion
book, Science and Health with Key to the Scriptures by Mary Baker
Eddy. We have found that healing of body and spirit often occurs at
our services as a natural outcome of worshipping God. Join us and
see for yourself.
Everyone is welcome.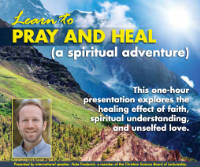 Please join us and learn how to pray and heal during one-hour presentations on April 27th and 28th.

Learn more here about this opportunity to explore the healing effect of faith, spiritual understanding and unselfed love.

We look forward to seeing you there!